REPUBLIKA.CO.ID, JAKARTA -- Inspired by the spirit of 212 rally, comic artist from Indonesia inserted symbols 212 and QS 5:51 in his drawing for the newest X-Men Gold #1. The comic was launched by Marvel Comics on last Wednesday (April 5) and it triggered controversy.
A fan from Indonesia, Haykal Al-Qasimi, disturbed by the symbol. He then published an open letter to Marvel Comics on his personal Facebook account on Saturday (April 8). He said that 212 and QS 5:51 implied messages related to alleged blasphemy case involving inactive Jakarta governor Basuki Tjahaja Purnama (Ahok) as defendant.
Ahok mentioned Alquran surah Al Maidah verse 51 (5:51) as a false guidance for Muslims in choosing a leader and the verse has been used by his political opponent to gain advantage. He has not been detained as others who had done same offens. Millions of people then held super peaceful action named 212 rally, as the demonstration conducted on December 2, 2016.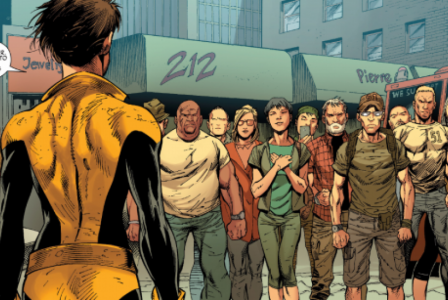 Ardian Syaf, a comic artist from Indonesia, inserted 212 symbol in his drawings for the newest Marvel Comic's X-Men Gold #1. Gizmodo
Responding the open letter, Marvel said they would delete parts of the drawing in the next printing. Quoted from comikbook.com, Marvel remarked, "The artwork mentioned were submitted by the artist without explanation of the meaning behind it. The artwork did not reflect the views of the author, editor, or anyone else in Marvel and contradicted directly with inclusiveness of Marvel Comics. The artwork will be deleted from the next printing, digital version, and trade paperbacks. Disciplinary action will be taken."
The artist, Ardian Syaf, said he was ready to face the consequences. He felt inspired after joining 212 rally. He came all the way from East Java to Jakarta to join the demonstration. The artwork was made afterwards. "The 212 rally was a memorable event for me, therefore I inserted it there," he reiterates.
However, he denied the symbols related to Tribe-Religion-Race (SARA)-nuanced. "Obviously, I'm not anti-Christian or Jewish and have many good Christian and Jewish friends," he said when contacted by Republika.co.id on Sunday.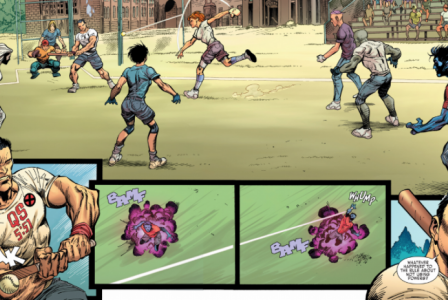 Ardian Syaf drew a baseball player who wore a jersey with the QS 5:51 symbol. Ardian inspired after joining 212 rally on December 2, 2016. Gizmodo
For Ardian, that was not the first time he inserted national phenomenon in his artwork. Previously, he did similar thing in Batgirl and Green Lantern of DC Comics. He was aware the readers might have different opinions. "I leave it to the readers," he said.